If you're like me, a pRO player who migrated to iRO Thor, then you must be waiting for the DC issues to be fixed soon. Right now we're encountering various sprite errors, DC on login, and DC on character select issues. WarpPortal said that they are still waiting for the magical kRO tool to fix all issues, but until now, June 2015, 90% of the migrated accounts still can't login.
Anyway, I was able to fix some of my character with sprite errors and I wanna share it with you guys of how I did it. First you need to download openkore from openkore.com then run it. Yes, I know, it's illegal in iRO, but it's the only way to fix sprite error issues. Once you're logged in in your account, just use the uneq command and remove all gears that your character is wearing. Enter "i" first to view all the gears that you're currently wearing, then uneq item #. You can check the item numbers once you viewed your character.
Screenshot of the inventory and equips after entering i: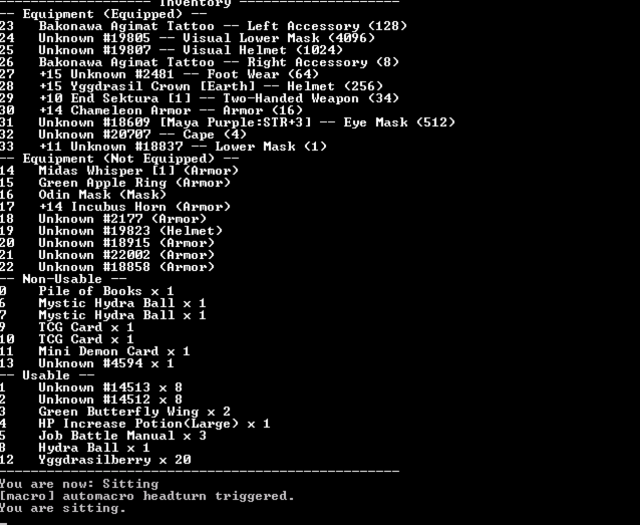 You need to unequip all gears that you are wearing so that the sprite issue will not show up once you're logged in on the official iRO client.
That's just how I fixed some of my accounts. I hope you will be able to fix yours as well if you encountered the same problem as I did.