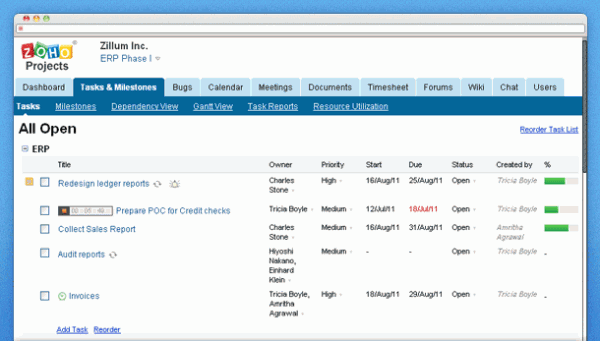 What I'm going to share with you right now is how to manage your projects seamlessly online. Managing your projects online has never been this easy, as what my post title imposed. This Project Management software that I'm going to introduce to you is somewhat fantastic. It's easy-to-use, with lots of features for project planning, tracking, and collaboration. This software is called Zoho Projects.

So what is Zoho Projects? It is the integrated project management solution that makes your projects done fast in a simple way, always. Whether you have a team of two or a hundred, you can make sure everyone is organized and working hand-in-hand towards the same prospect. With this software, your project result is coordinated, unified process that saves money, enhances project quality and saves time. Now you can work faster and smarter with this awesome Zoho Project management Software.
One of the key features of Zoho Projects is project planning. You can set project milestone and deliverables with just a few clicks, get tactical with organized tasks and tasks list, and establish task dependencies based on events. Another great feature is that you can always stay on track about your project status. Monitor progress with easy-to-read Gantt Charts, enter hours spent on a certain project, and you can use different ways of reporting to maximize time & resources.
One of the many notable features of this online software is collaboration. You can keep everyone informed through the project dashboard. Read status updates of a specific project, just like you're using Facebook or Twitter. Start to exchange ideas, and brainstorm in its built-in forums. And lastly, make quick decisions through real-time group chat.
What's great with Zoho Projects that doesn't exist in most online project management software is the Google Apps integration. With Zoho Projects, you can directly import Google Docs & MS Project files, embed gadgets to get updates in Gmail, and transform e-mails into actionable tasks.
If you want to manage projects with ease and peace of mind, why not try Zoho Projects! You can try the software for free by signing up here.
Enjoy and have fun! (Yes, I know it's redundant. Haha!)