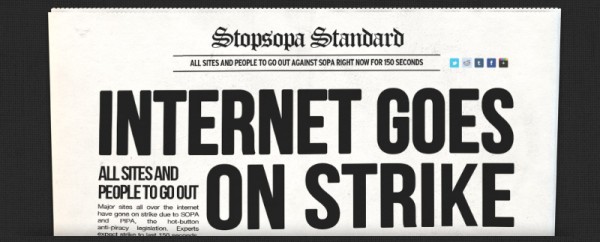 Lex parsimoniae. Because if we vote yes, we're doomed! On January 24 this year, the Congress will vote to pass internet censorship in the Senate, even though the vast majority of Americans are opposed. I don't think I should be worried about this, but I guess I should be because a lot of people are damned worried about this bill.

If you want to know more about SOPA, then read this Wikipedia page, or check out this complete bill summary at loc.gov. If you want to join the strike, like me, then proceed to this page. If you want a super cool SOPA template for your website or blog, check this page out! It's ultra damn cool!
Let's save the internet and stop censorship! If this bill will be approved, the US government will be Hitler and will control the entire web. This is damn to bad for us, yes, even if we're not Americans. I really do hope that Lamar S. Smith will fail in getting this bill approved.
And oh, if you're not in the US, you can join the petition here!