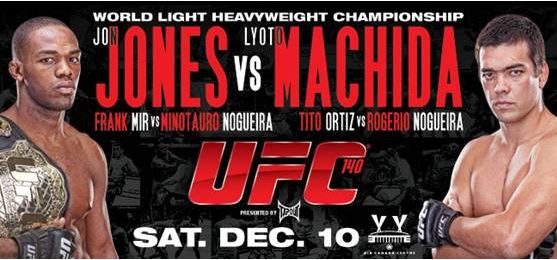 I must admit I've been consumed with the controversial Pacquiao-Marquez III fight in the past few weeks that I haven't checked what has been happening in UFC lately. I even missed the debut UFC fight on the FOX Network that happens to be the World Heavyweight Championship bout between Cain Velasquez and Junior Dos Santos. Unfortunately the fight happened at the same time with the Pacquiao-Marquez III fight. I could have seen how Dos Santos took the title from Velasquez in a span of 64 seconds. Then came UFC 139 which I forgot to watch because I overslept.

So much for the frustrated UFC moments because this time I'm definitely back on track. Just recently, the trailer for UFC 140: Jon Jones VS. Lyoto Machida was released to excite the fans more than ever. Jon Jones would be defending his Light Heavyweight belt against Machida. Some sports betting websites has been placing odds in favor to Machida since he has been preparing for the fight in a longer time than Jones. Machida's last fight was against Randy Couture last April wherein he ended it with a deadly flying front kick. Jones on the other hand just defended his title less than three months ago from Quinton Jackson. It isn't a guarantee though because some fighters are just tough no matter how long or short their preparation is.
Let's all wait for the outcome of the fight this coming December 10 inside the Air Canada Centre in Toronto, Canada. The Noguiera brothers would also be part of the main event as Rogerio will face Tito Ortiz and Rodrigo will fight against Frank Mir. As of now, enjoy this trailer for the pay-per-view broadcast.