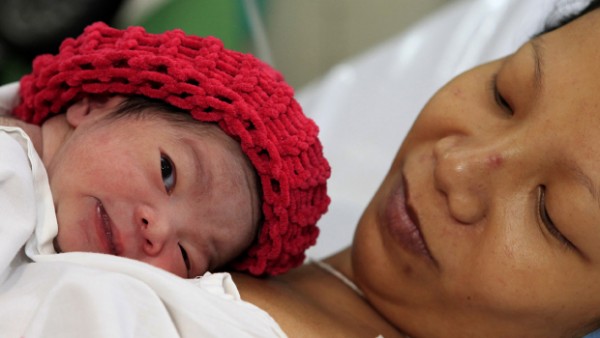 October 30th at exactly 11:58pm, a 5.5pound baby girl came into this world and just became Philippines' 7th Billionth baby. She is the representative of the country as the world welcomes its 7 billionth citizen. Because demographers are can't pinpoint the exact date when will the world's population reach the 7 billion mark, the U.N. used Monday to symbolically mark the day. Named as Danica May Camacho, the second baby of an average Filipino parents who has been struggling to live. Her father is a driver with a tiny salary to support his family. Although baby Danica was born 2 minutes before Monday, the doctors said that that was close enough to count for a Monday birthday.

Baby Danica's birth at Manila's Jose Fabella Memorial Hospital was welcomed with a feast of food, baby clothing and even with educational plans. Media men queued to their hospital room to capture the precious moment. The couple didn't expect the blessings that they receive just because of the birth of their second child. It's like winning an online casino or a jackpot in a lottery.
Inspite of the happiness and celebration, the birth of baby Danica has become a warning to entire Philippines. The world already reached quite a number in population which means the entire nation should be able to give a decent life to these huge number of people.
"We should really focus on the question of whether there will be food, clean water, shelter, education and a decent life for every child. If the answer is 'no,' it would be better for people to look at easing this population explosion," said Dr. Eric Tayag of the Philippines' Department of Health.
This population issue has become one of the serious topics in the country wherein legalization of abortion is strictly prohibited. Even the promotion of contraceptives has been strongly argued by different sectors.
On the other hand, India, the country which contributes the most of number of population of the world also appointed 7 baby girls born Monday to be their 7 billionth. Girls has been chosen to give importance to ladies in the society. "It would be a fitting moment if the 7 billionth baby is a girl born in rural India," said Dr. Madhu Gupta, an Uttar Pradesh gynecologist. "It would help in bringing the global focus back on girls, who are subject to inequality and bias."