I just noticed this now, that the mechanics of SM Advantage in their FAQs page is a lie. I noticed this after buying something at SM Appliance Center that is worth 200k. Suppose to be, you'll be awarded 1 point for each 200 pesos spent. You may refer to the screenshot below: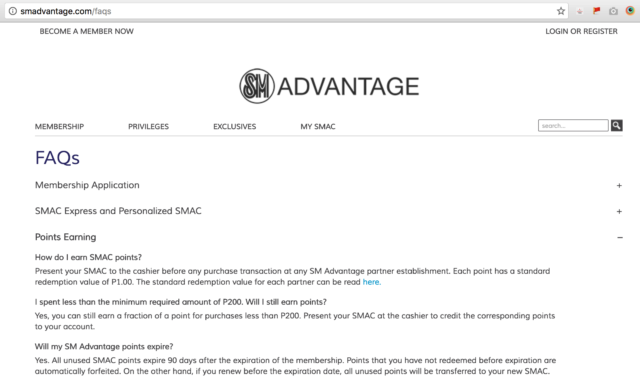 So I should receive around 1000 points, for a 200k php spent, right? To my surprise, I was only awarded half of it. I received 500 points for a 200,000-peso purchase. I then checked my other purchases and found out that SM actually awards 1 point for every 200 pesos spent, except for SM Appliance Center, SM Supermarket, Hypermarket, Our Home, and Watsons which is 1 point every P400 pesos spent.
Lesson Learned: Don't believe what you see in SM's advertisements and what they wrote in their FAQs page. They are sneaky big bastards.
UPDATE: SM seems to have updated their FAQs page. We can now see that we only earn 1 point for 400 pesos spent in selected stores:
http://smadvantage.com/membership/points-awarding-partners