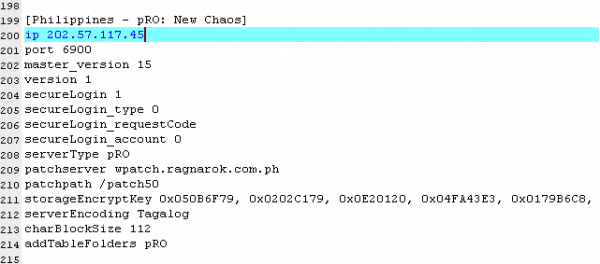 If you're an openkore user and an avid pRO player, then you've noticed that you can't connect to the server right after yesterday's server maintenance. It's because that the New Chaos server changed its IP from 202.57.118.232 to 202.57.117.45. You need to update your servers.txt inside your tables folder in order for you to connect your openkore bot again to the Philippine Ragnarok Online New Chaos server.

That's it! The new IP is 202.57.117.45. This change is effective yesterday, September 22, 2011. You can't find this IP in any forums or blogs, except mine. Thanks to our friends inside LevelUp Games for providing us with the updated IP address in secret. Hehe.
If you don't know how to edit your servers.txt, just look for the line [Philippines – pRO: New Chaos]. Right after it, there's the ip line. Just modify 118.232 and change it to 117.45! That's it!
It's exactly in line 200, if you didn't add additional lines in your servers.txt before. Once again, the servers.txt file is located inside your tables folder.
I hope this post helps all pRO botters out there!