Hello BPI Mobile App users! The newest and latest BPI Mobile Banking app for all smartphone devices is now available for download. This replaces the BPI Mobile version 4.0.42. I tried to download this app today, but I'm experiencing some sort of error. The error is 907 invalid JAR unable to read short. So, I tried to Google the error, but as expected, nobody blogs or posted about the error because nobody seems to be using the BPI Mobile application for Blackberry.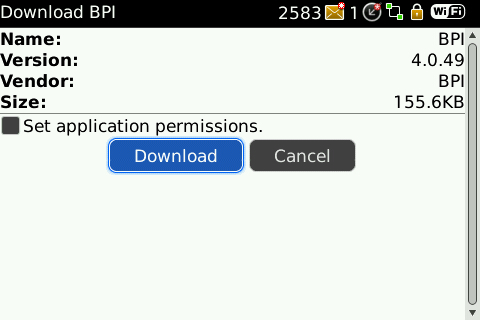 I guess it's just me then. I hope someone out there also encountered this error so that I will not be alone anymore. Hahaha! Oh BPI, please fix your latest mobile app error. I encountered the same error before with a specific mobile application for Blackberry. What I did is just restarted my BB, then the mobile app worked just fine after reboot.
I'll try to fix it myself and will post about it once I fixed it. But if I can't fix it. Too bad for me…
UPDATE: I found a solution. You need to manually delete BPI Mobile version 4.0.42, then restart your Blackberry. Once you've restarted your Blackberry, send a new link via bpiexpressonline.com. Just go to Other Services > Express Mobile > Mobile Banking > Send a New Link.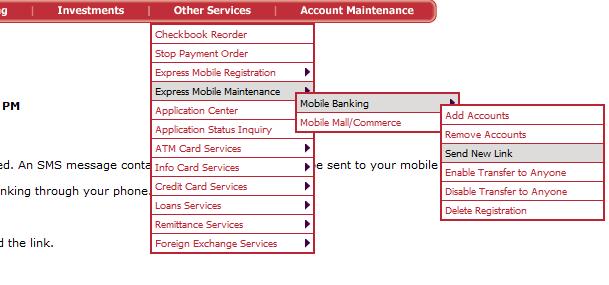 Use that new link to install the latest version of the BPI App. Once you installed it, restart your mobile phone again. After your reboot your phone, try logging in! It should work just fine!
So what news with the version 4.0.49? Nothing's really new. There's just a slight change in the UI. That's all. Instead of the good old icons, they changed it to a list style. You need to scroll down to select your options. Check out the screenshot below: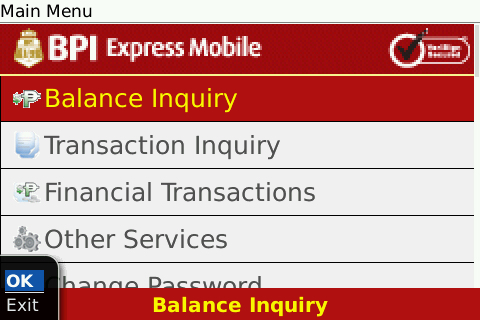 That's it! I still like the old one. I hope there will be an option to select a UI. If the user wants the desktop icon style or the list style. That's just a suggestion and I think BPI will never do it, because it's not that important.