If you haven't noticed yet, Twitter's PageRank is now zero. There's a minor PR update last July 16, 2011, and only few website owners noticed this. The last major PR update was last June 27, 2011. I also noticed PR6 and PR7 sites that are now PR0, such as Circolo Sormani, and other well-known websites and blogs.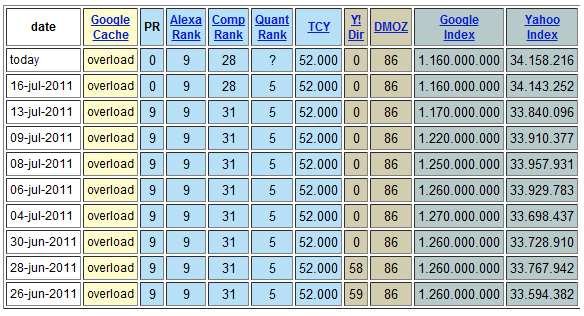 I know this is not a fresh news because Divyang Patel of Goospoos.com already blogged about this first and a lot already posted regarding this PR update in major forums, such as the Digital Point forums and the Black Hat World. I first found out about this while checking the PageRank of famous sites such as Facebook, Microsoft, Yahoo, Google, Plurk, Piclyf, and of course, Twitter. I was shocked and I think it's just a glitch with push2check.com's PR checker tool.
I then checked other PR checker sites, then I found out that Twitter's PageRank is absolutely zero. I then checked the SERPs if Twitter is indeed penalized, but Twitter.com is still ranking in Google. So I conclude that this is just a glitch in Google's datacenter, and by next month, if another minor PR update will occur, Twitter's PR will be back to its normal state or maybe higher.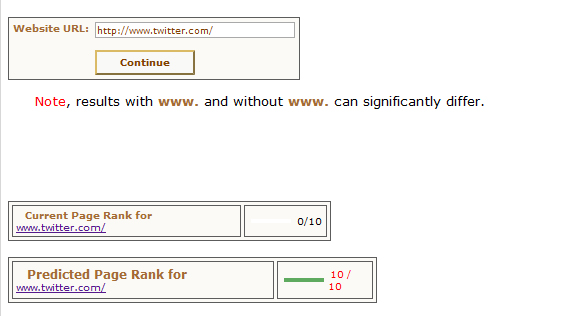 If you check this PageRank prediction tool, Twitter's PR is 10. Its current PR now is zero, but I know and I'm pretty sure that its PR will go back up again.
Anyway, nobody cares if Twitter's PR is 0 or 10, or even -257 (Banned and Penalized state). Twitter junkies will still use Twitter even if it's not indexed anymore in Google. And I'm pretty sure that the guys behind Twitter will not care or bother about their PageRank.