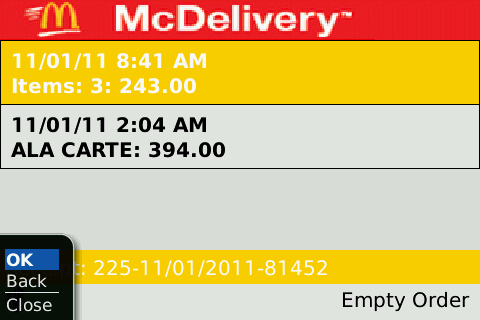 Have you tried ordering online at McDelivery.com.ph and feel its convenience because you'll just drag and drop the food that you want to order, fill up the form, and press submit? Then in less than a minute, a CSR will call you to confirm your order, subsequently after a few minutes, the food you ordered at McDonald's is delivered right to your door step?

If your answer is yes and you're happy with their online service, you'll be happier with their Mobile service! It's seriously fast and there's no confirmation that you ordered at all. You can pay for your order instantly and it will be debited to your BPI savings account.
First you need to register to BPI Mobile Mall and download the BPI I-can app to experience this wondrous service at the palm of your hand!
I just tried ordering my first MCDO meal via BPI Mobile Mall in my Blackberry and I can say that it's fantastic! After submitting my order details, the McDonald's delivery boy arrived in less than 10 minutes to deliver my order and I didn't pay a single cent, because it's already debited in my BPI savings account. How convenient is that?
Below are some screenshots of the McDonald's Delivery in BPI Mobile Mall.