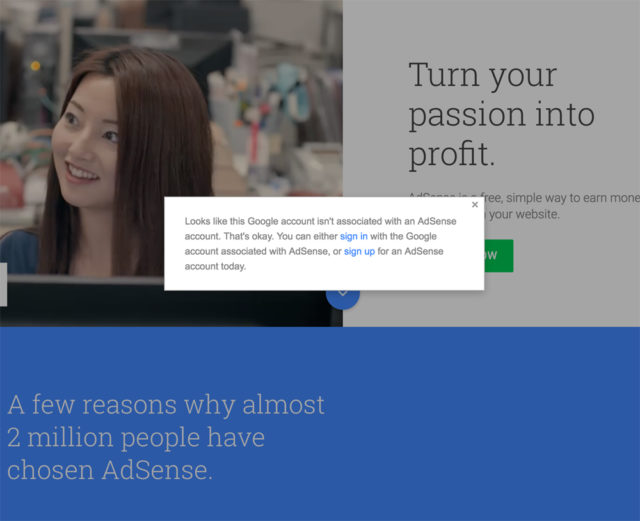 If you've encountered this issue last year, it seems it's still not fixed. When attempting to sign in via adsense.google.com using Google Chrome, you'll be prompted with this error message: "Looks like this Google account isn't associated with an AdSense account. That's okay. You can either sign in with the Google account associated with AdSense, or sign up for an AdSense account today.". I thought this is just temporary. All I know is that Google is signing in your Adsense account using an individual account data, not your actual account data. This happened to accounts who signed up with Adsense prior to the implementation of Google Single Sign-on. So it's prompting that your email is not associated to Adsense at all.

Google Engineers haven't fixed this until now. The first time I encountered this problem was last year. To my surprise, it's already 2016 and this problem is still unresolved.
If you're wonder you're alone, you're not. There are around thousands of people around the world who encountered this same dilemma. Check out the Google Product Forums, or just do a quick search just like this one.
The solution? Just use Safari, Opera, Microsoft Edge, or another browser that is not Google Chrome. This problem is not yet resolved by Google until today, so let's just wait until it's resolved.
New Adsense Publishers will never encounter this problem. Only the old users before the Google SSO was implemented.