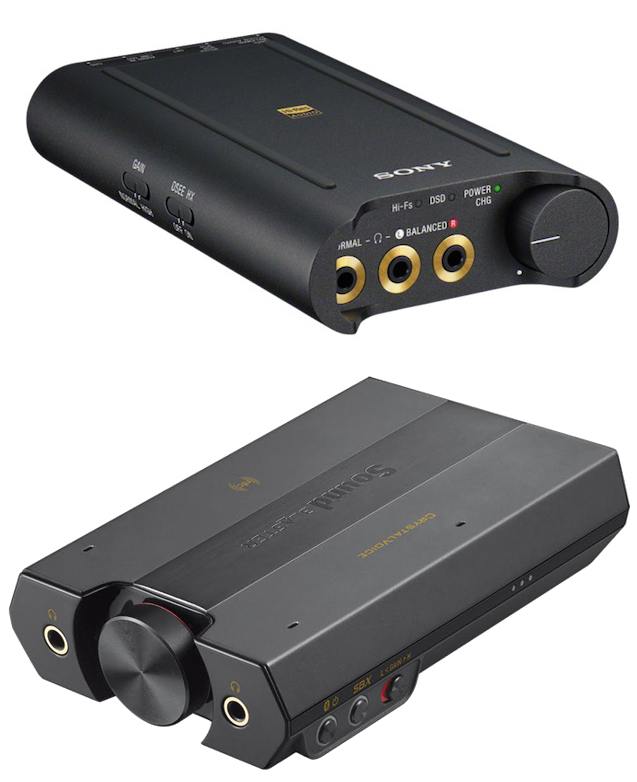 For the past few weeks, I've been looking for the best portable DAC with sound amplifier that I can use with my Audeze EL-8. I've been searching in Youtube for a video review + blind tests, but I found none. After searching and searching and searching, I found two DAC choices that I want to buy. The $1000 Sony PHA-3 Headphone amp and the $200 Creative Sound Blaster E5 High-Resolution USB DAC 600 ohm Headphone Amplifier with Bluetooth. The price differences are way off. Sony supports up to 384 kHz/32-bit PCM and DSD (2.8/5.6) source, while the E5 only supports up to 24-bit/192kHz.
Now is there a huge difference between the 32-bit and 24-bit amplifiers? Will you notice it? That I don't know, that's why I'm looking for a blind test review for those two portable amps. Once I found one, I'll be posting it here. Right now, I found nothing in the world wide web.
And oh, the FiiO E12 Mont Blanc Portable Headphone Amplifier is also a good choice if you want to listen to better music, and it's cheaper. There's also a $50 dollar FiiO A3 amp. Anyway, you can still listen to music even if you don't have these audiophile thingamajigs.
Anyway, I'll be updating this post soon once I found a comparison for both. I will also post my own blind test with my friends soon (once I already bought both, haha)
Two reviews I found in YouTube, but it's not a comparison between the Sony PHA-3 and Creative Soundblaster E5, just two separate video reviews that might help you decide which to buy.
First video is the Sony Hi-Res Audio PHA-3 and MDR-Z7 by Woopnik:

And below is the Creative SoundBlaster E5 FULL Review by Tech YES City: