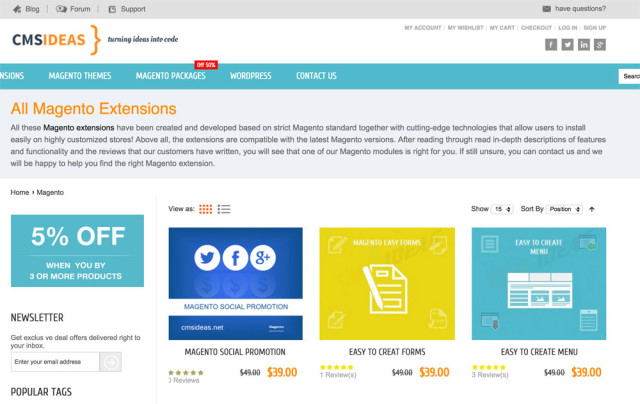 According to their website, CMS IDEAS is one of the providers of state of the art Magento extensions. If you're a long time Magento developer or extension integration specialist, then you may have noticed that all of their Magento extensions are not their own. They are reselling Magento extensions from reputable extension developers such as FME, AITOC, V-Design, Amasty, Aheadworks, and more.

You'll easily notice it when you contact their support department and ask for extension modifications. They don't have a clue how to modify it. They actually only know CSS and HTML. What they do is modify existing extension, rename the folders, change the constant IDs in the code that can be changed without modifying the core structure of the code, and remove all the copyright notice from the previous developer.
This is actually fraud and stealing and they've been doing it for years now. They are reselling the extensions for a much cheaper price. One of the many examples that we've actually used is the Booking Extension that they claim they coded from ground up (http://cmsideas.net/magento-booking-extension.html). That booking extension is actually created by V-design.eu, a Magento development firm based in Czech Republic, and they have two versions of the extension, the MyBook and MyBook Pro.
Their so called Booking Extension 2.0 (http://magento-advanced-sorting-product-list.cmsideas.net/index.php///the-course.html) is an exact copy of FME's Booking & Reservations extension.
Another example is their Full Page Cache extension that they are selling at codecanyon.net (codecanyon.net/item/magento-full-page-cache/8092700/), which is an exact replica of AITOC's Full Page Magento Booster extension.
I think if I have more time to browse their website and try their extensions, I can test all of their code and compare it to the original developers of the said extension.
So if you're planning to buy from them because the extension they are selling is relatively cheaper from other extension sellers out there, then you can buy it, as it's cheaper, but the support you'll be getting is below mediocre, as they don't have a clue how the extensions they are reselling works in the first place. The extensions that they are selling are actually working, because it's sold by reputable developers and they are just claiming it as their own. Don't expect a top-notch service (except for CSS modifications, which a toddler can do nowadays) or updates from your purchased extensions if you bought it from CMSideas.net.
You've been warned.