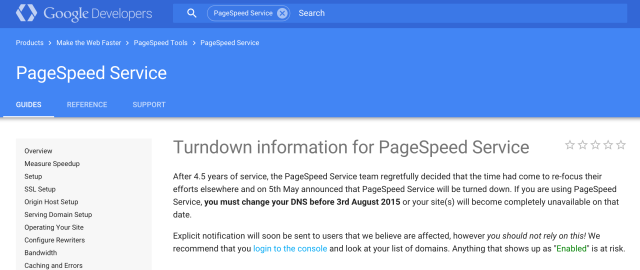 Today is the last day of the Google hosted PageSpeed service. So if you're using pagespeed.googlehosted.com as your CNAME, you better change it today, or else, your site won't load anymore. It has been 4.5 years since Google PageSpeed service started, and it's been an awesome ride! My site's page load speed actually increased after using their hosted page speed service. But now, it's time to move on. You can use Cloudflare, just like what I'm using right now, or have your own self hosted pagespeed service.

Anyway, Google has developed the open-source Apache module mod_pagespeed. Pre-built binary modules for Apache 2.2 and 2.4 are available. Check out this link for more info: https://developers.google.com/speed/pagespeed/module/download
If you wish to continue using cloud-based product, EdgeCast Edge Optimizer (http://www.edgecast.com/services/edge-optimizer/) and Squixa (https://www.squixa.com/platform/feo) both integrate Google PageSpeed with CDN offerings. Alternatively, there are CDN services that offer comparable functionality that does not use PageSpeed technology.
Thank you Google for the free PageSpeed service for 4.5 years!