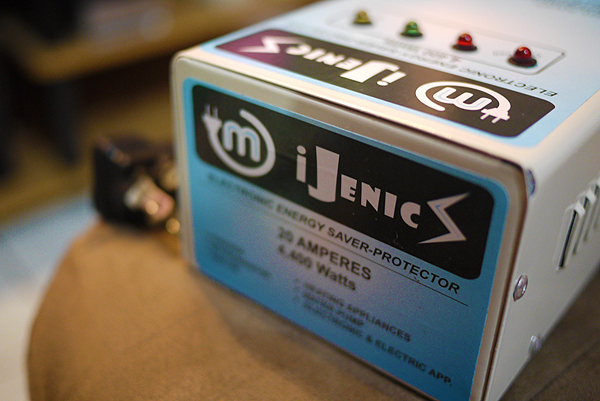 This post is a short review of the iJenics Marketing Power/Energy Saver & Protector. Hmmm… I think I'm the first to post about them online as I haven't found a single review about them. There are "cached" permalinks in sulit.com.ph and those pages are totally empty (As usual. Sulit.com.ph is known to store a lot of empty cached pages full of ads with no content to earn "extra" bucks from not giving site visitors what they want) and I also found one public wall post in Facebook about the certain iJenics Marketing company.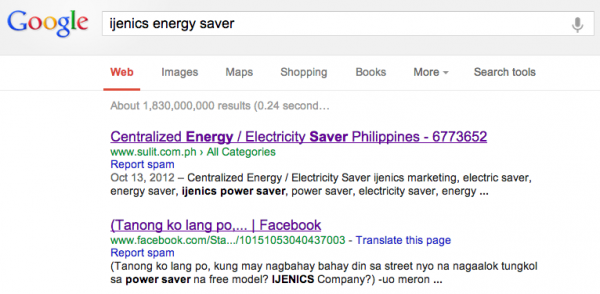 Right now, I can't post any review as this is the first day that I'm using the iJenics Energy Saver. I will update this post or publish a new update in this blog after a month if I really conserved electricity and saved something from my Meralco bill.
I'm not really sure of this product is a scam/fraud or not. I'm just curios about them so I tried their free device. What I got here is a 4.4k Watts power saver unit with 5-year warranty and lifetime free service.
Just subscribe to my updates if you're one of those curious dudes about this product by iJenics Marketing.
By the way, they don't have a website that's why you can't find anything about them in the online (obviously). So in case you're looking for them, here's their office address: Room 313 URC Building. 212 Espana, Sampaloc, Manila. Telephone number 354-0655. Cell # 0918-280-4120.
UPDATE Feb 3, 2013: Due to the fact that I'm so skeptical if this is a scam or not, I texted Tony (the agent) who went to our house. The guy named Tony from iJenics told me that they have a new telephone number 3854127. The one from their official receipt is not working anymore. This reason seems to be odd, so I searched about power saver scams and frauds in the Philippines, and luckily I found this blog post.
The details in the blog post that I mentioned contains the same exact modus that they did to me. The unit is valued at 10,000, but they will give it for free, provided that you'll pay the sum of 8,500.00 for the lifetime free service and 5-year warranty. You'll be very interested and be enticed to try it because it's free. Who doesn't love freebies anyway? At first, he will not mention the 8.5k service free until you decided to avail the free give away.
This free giveaway is just a promo in our Baranggay and only 10 families can avail it, the agent said. If you don't have money, you can give a downpayment of 1,500.00. I told them that I really don't have cash, so the guy insisted that he will just shoulder the 1,000 pesos and I'll just give him 500 pesos. Good thing, I really don't have a cash on hand, so I told him honestly that I even don't have 500 pesos here, I only have 100 pesos for lunch. So the guy said if I have a checking account, they accept checks. I told them that I have a checking account but it doesn't have cash. If I issue them a check, the check might bounce. I was honest all the time and even told them that I will have cash tomorrow (because I'm really interested to save something from my Meralco bill) and I can issue them a post dated check if they really want to sell it to me.
Afterwards, he called his manager regarding the check payment option. His manager arrived at home and said that they accept checks, provided that it's paid to cash. Hahaha! I told them that they can encash it as long as they have proof that they are the official representatives of iJenics Marketing. If not, you can just deposit it to their company's bank account.
After 24 hours, the check didn't clear. So I concluded that something's fishy. I stopped the check payment online and transferred my funds to my savings account.
Finally, I felt relieved and told myself "whew, that was close!".
Here's a video of the same case I almost experienced. Good thing I don't have the cash, or else, I will be scammed as well:

Power Savers are also sold inside Ace Hardware before, but now it was pulled out. Good thing SM realized that they are helping the scammers scam. Hahaha!
And oh, the irony… There's also a video promoting a power saver! Even the famous Grace Lee was tricked by this so-called Power Saver. Hahaha!
PS: Based on my own investigation, they exist before using other company names that doesn't exist in the DTI database nor in the Philippine Business Registry database.
I think it's the same with the Minisun Marketing that geemiz blogged about. They just changed their name to iJenics and printed receipts that bears their business name so that they will look legit to the eyes for their preys.