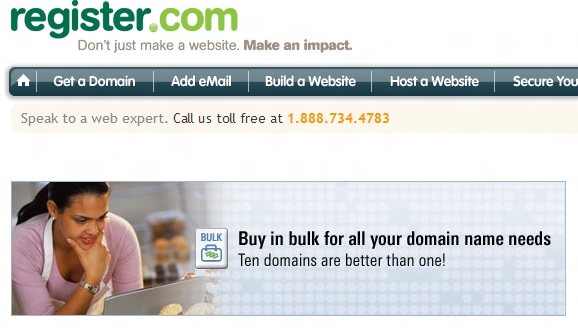 My friend Ted asked me if how can I register domains in bulk because he had a lot of great domain names in mind and he wants to register all of it simultaneously. Due to the fact that I'm using Register.com to register my domain names, I suggested that he should the bulk domain names feature of Register.com.

With their bulk domain name registration, you can register domain names in bulk (obviously). You can register up to 10 domain names online, or more than 10 via their toll free number. You need to call them first if you're registering a hundred or a thousand domains. This feature is really great because you don't need to do anything, just call them and tell them the domains that you want to register. No need to click anything or filling up anything, just talk to them and they will do the job for you.
When I told Ted about this feature at Register.com, he was so happy and thanked me for helping him with his dilemma. I don't know why he didn't Google it first before asking me. I think he's just pretty lazy to search for it himself.
Anyway, if you're also in need to register multiple domain names at once, use Register.com's bulk domain name registration. Registering multiple domains is hassle free with Register.com!