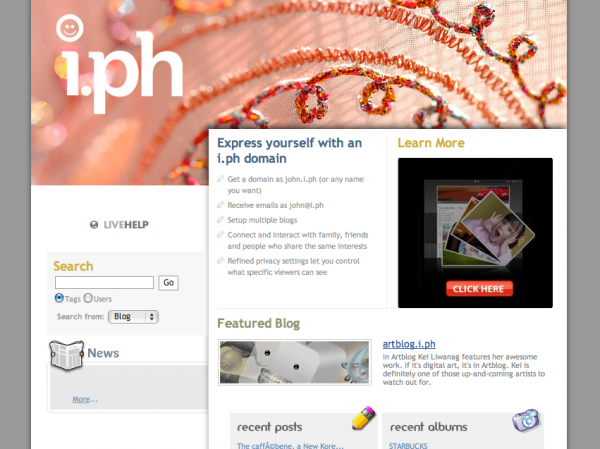 I recently received an e-mail from i.PH that they will be shutting down on May 21, 2012. This is a very sad news for all i.ph users, but we have to let go. Good thing, I'm not using my i.PH blog for quite a long time. I think they were banned from Google Adsense as I don't see any Google Ads on any i.PH blogs, unlike before. I assume that this is one of the main reasons why i.PH doesn't make any profit as they don't serve Google Adsense ads anymore.

You can still own your i.PH domain by registering it for only $7.00/year. You can reserve your domain until April 9, 2012 only, or else, others will definitely squat on your precious domain. But you will be required to register it for 2 years minimum and it will cost you $14.00 every 2 years.
Anyway, here'a an official letter from i.PH:
Dear i.ph blogger,

All good things must come to an end.

It's been a fun ride, but we will be closing the i.ph blogging service on May 21, 2012. Maintaining it as a free service has become unsustainable and we are unable to devote the resources neccessary to keep it going.

You have 2 months to transfer your content to another blog, because on May 21 all i.ph blogs and files will be deleted from our servers. Within the next couple of weeks, we will provide you with a way of transferring your blog posts easily. In the meantime, we will lock the blogs so that no additional content can be put on them. This will make things easier for you when you move your posts out.

If you would like to keep using your i.ph domain even after the i.ph blogging service has shut down, it will be available as a low-cost personal domain for individual, non-commercial use.

The i.ph personal domain will be fully-functional and will work just like any other. You can use it for your own website and as an email address. It will even come with free mailforwarding so you can use it as an address and still receive mail through your Gmail or Yahoo Mail account. The only restriction is that it cannot be used by companies/organizations or for selling goods, products and services.

i.ph domains will be priced at $14.00 for a 2-year registration.

To reserve your i.ph domain, click on the link below. The $14.00 reservation fee will be applied to the first 2 years registration once the domain goes live.

You only have until April 9 to click the link, reserve your domain and ensure that you have first chance to keep it. Otherwise, it will become available for registration by the public after May 21. We will keep you updated on the status of the launch as the date approaches.

We thank you for your continued support of the i.ph blogging service through the years.

If you have any questions, please email our Helpdesk at [email protected].

Best regards,
i.PH Support
So long i.PH, we'll surely miss you!