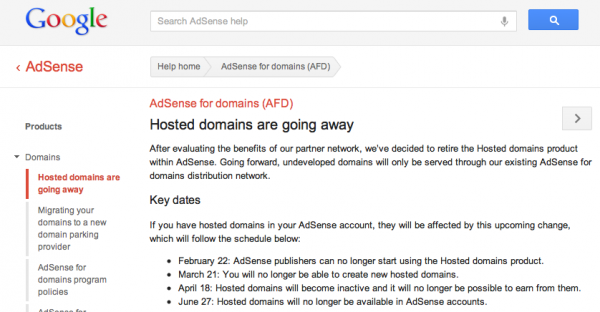 Everybody seems to be saying goodbye. Just recently, I blogged about the shutting down of i.PH blog services. Now, I'm blogging again about another farewell. Today, March 21, 2012, no new hosted domains will be added for existing Adsense for domains publishers. AdSense publishers with access to Hosted domains will no longer be able to add new domains to their account. Hosted domain channels will also be read-only as of this date.

They started this announcement a month ago by sending mass e-mails to those who are using Adsense for domains. Too bad for me as I have a few domains in this program that are earning decently. Anyway, there's Sedo, a great alternative for Adsense for domains.
Last February 22, 2012, Google Adsense stopped accepting new publishers for hosted domains. But AdSense publishers with existing access to Hosted domains will continue to be able to use Hosted domains until April 18, 2012.
On Jun 27, 2012, hosted domains become unavailable in AdSense. This will shutdown the program entirely. Hosted domains settings and channels will no longer be accessible in AdSense. Performance reports will continue to be available until April 18, 2013.
As for the payments, hosted domains will continue to accrue earnings until April 18 this year, when they will stop showing ads. As of the last day of April 2012, earnings will be finalized as usual.
To read more about the discontinuation of Adsense for domains, click here.
This is another sad news for all Adsense for domains publishers, but we should have to let go. Once again, goodbye Adsense for Domains.