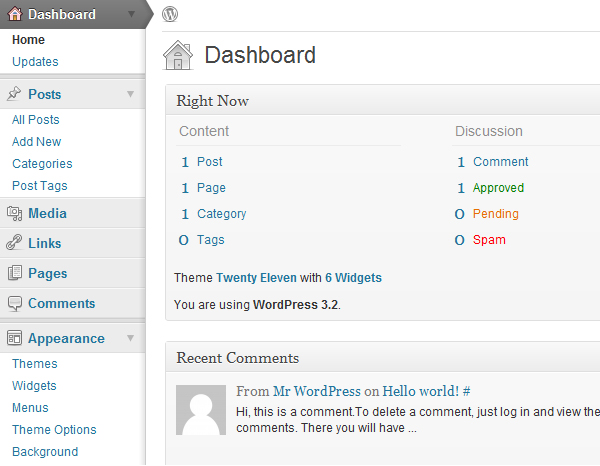 Wordpress 3.2 was recently released and you can now update your blog easily by clicking the upgrade to WordPress 3.2 link inside your WP admin. After upgrading to 3.2, you'll notice a brand new user interface. It's quite cooler and cleaner, because it's newer, but I think I love to older UI much. I hope they will have an option to choose a user interface, but I guess they will never have it because they always want to change and change and change.

This is bad new to those who are using the current fluency admin. But if the current fluency admin is compatible with WordPress 3.2 (I haven't tested it yet), then those who are using it have nothing to worry about.
In WordPress 3.2, there are performance improvements like you wouldn't believe (that's what they said in their blog, I just copied the exact phrase). It's now faster and better. I think it's still the same, maybe because my server is slow. But if it's faster if and my server is slow, I just feel the slight improvement that it's fast, but I didn't feel a thing. The speed is still the same, and everything is still the same, except the admin UI.
Lastly, a New Default Theme is now available and it's called Twenty Eleven, based on the popular Duster theme. It's like the 2010 theme, but better. It looks modern and ergonomic. Rotating header images, post format support, background support, and all the features that are available in last year's default WP theme is also available in this 2011 theme.
I think that's it. If you know more features that I didn't mention in my post, please feel free to leave a comment below. If you're tired and too lazy to leave a comment below, then don't!