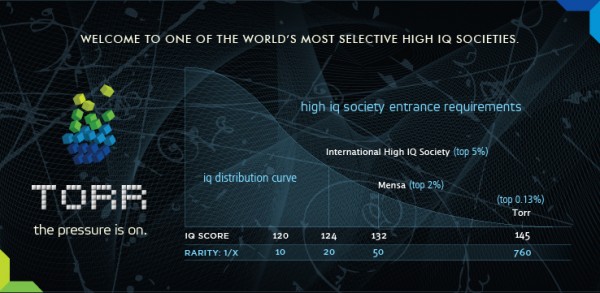 Torr, the newest ultra-selective high IQ society has been launched recently. The International High IQ society announces the official launch of Torr 2 days ago. With an entrance requirement in the top 0.13 percent of the population. If your IQ is 145 and above, then you're qualified to be part of this newest high IQ society.

As of now, there are only less than 100 members in the whole world. I think there will be more members as the time goes by. Check out torr.org for more details about this organization.
Inaugural members are entitled to a $10 discount on membership with the following promo code: FALL2010. Just make sure to click activate code before entering payment information.
Torr is founded by Nathan Haselbauer, the President of the International High IQ Society.
A friend of mine recently took the GIGI assessment test and his score passed Torr's qualifications. He scored 155. He said that the questions are really easy because it's all basic abstract reasoning patterns. If you love shapes and other non-verbal tests, I suggest you to try joining Torr. There's a $3.99 test fee, but it's worth it. You'll be answering a 40-item culture-free progressive matrices IQ test designed as a nonverbal measure of general intelligence. You'll have 30 mins to answer all questions.
If you want to be part of this elite organization, visit torr.org now!