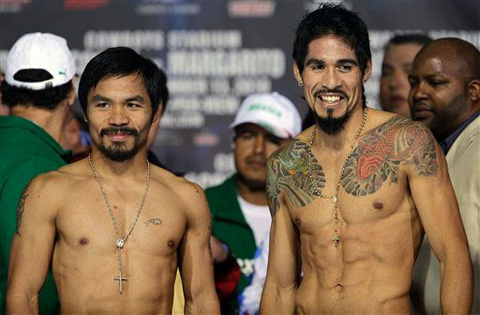 I'm not good in giving predictions and I don't usually predict boxing matches, but I would like to share my insights regarding tonight's WBC Super Welterweight match of Manny Pacquiao vs Antonio Margarito. I know the majority are saying that Manny Pacquiao's victory against Margarito is 100% sure and only a miracle can let Margarito win against Pacquiao.

Are those predictions accurate? It's not accurate because it's just a prediction. A lot of boxing critics gave their predictions on tonight's match. About 92.5% are saying that Manny Pacquiao will win via knock out or technical knock out. Whereas only 7.5% are predicting that Margarito will surely ruin Pacquiao impressive record of simultaneous victory against boxing legends.
If you ask me, I say that Manny Pacquiao will knock out Margarito. What's my basis? My intuition and instincts. Let's just watch the Pacquiao vs Margarito live stream and see what will happen tonight.
Credit: Image from pacquiaovideo.com