Ok, so first and foremost, I know you've heard or read the news about Kimstore last Monday, when their warehouse was raided by the BOC. Some pretty little bird gave a tip to the BOC that Kimstore is smuggling a lot of stuff, the stuff that they sell online. This news has been trending in Twitter and other social media platforms since February 1. And until now, February 3, 2017, there's no official statement yet from Kimstore regarding this incident, according to the latest post I've read about it online while writing this post.

Several conspiracy theories are now arising in the world of social media. Others said that "Francis" is different from Kim Lato, the owner of Kimstore. So Kim Store and Kimstore are not the same. It's just a coincidence that they have the same name (The official Kimstore is NOT Kim's Store—the one seized). But, according to me (yes, me, Bryan), Intelligence Officer Joel Pinawin just can't hear it right, or maybe he can't pronounce it correctly (And the reporters like Ver Marcelo of CNN Philippines and Tina G. Santos of The Philippine Daily Inquirer didn't hear it right). So Mr. Joel here told the reporters that he received a tip that the owner of the Kimstore Warehouse that they raided is a chinoy businessman, a guy named "Francis". Yes, that's what he heard! FRANCIS owned this place and we are raiding Francis' warehouse. But… (another but because I love buts), it's not really francis, but frances. I'm pretty sure he misheard it or the reporter didn't spell it right.
Frances and Francis are the same person. They just replace the i with an e. So who is Kim Lato? One twitter user asked (no, a lot of Twitter users asked). But here's just one example.
Wait, bakit "Francis" yung owner name sa reports? Who's the Kim Lato that supposedly owns Kimstore then? https://t.co/DTOaWWJFNG

— ColeBaldiviaMendoza (@nicolebaldivia) February 2, 2017
If you want to see more, here are more confused people who thinks Francis and Frances are not the same person.
So… why am I saying that Francis and Kim Lato (Frances) are the same? Because the full name of Kim is Kim Frances Yao Lato, and she's the owner of Kimstore. The one that was raided in Tondo. And according to Google Maps, Kimstore's address is 1815 B Nicolas Zamora Street, 5 Tondo, Manila, which is one block away from Lakandula street (A new warehouse is built along Lakandula or the pin in Google Maps is not 100% accurate). Therefore, it's safe to assume that it's their warehouse and people who are saying that Kim Store owned by Francis and Kimstore owned by Kim Lato is not the same, were definitely wrong.
But not just that, processing of online orders at Kimstore.com is on temporary halt. So if you placed an order from Kimstore.com last week, expect a looooooooong delay. But today, there are customers who left a message in Kimstore's facebook page, claiming that Kimstore is now replying to SMS messages and the orders last Monday are now being processed, so they are slowly getting back to business as usual. They actually have a lot of in-house CSRs, but the responses are still delayed. Hmmmm?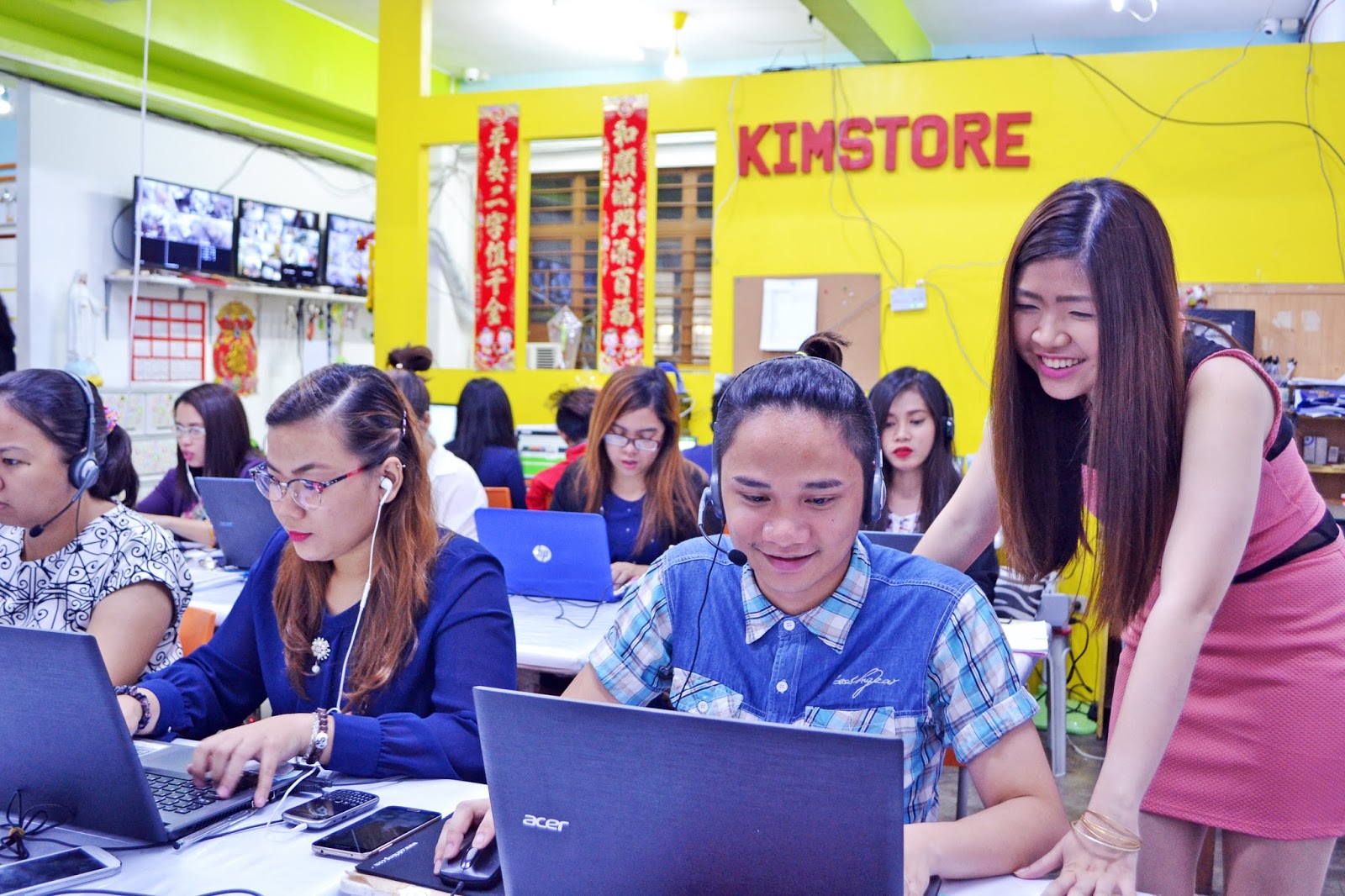 And how about the much awaited official statement from Frances? (Yes, I'm referring to Kim). They haven't posted any updates since January 29, 2017. And their latest Facebook update regarding system upgrade + maintenance was removed in their FB page.
Ooops, there's still a Google cache about their "Due to the unforeseen need for system upgrade" announcement: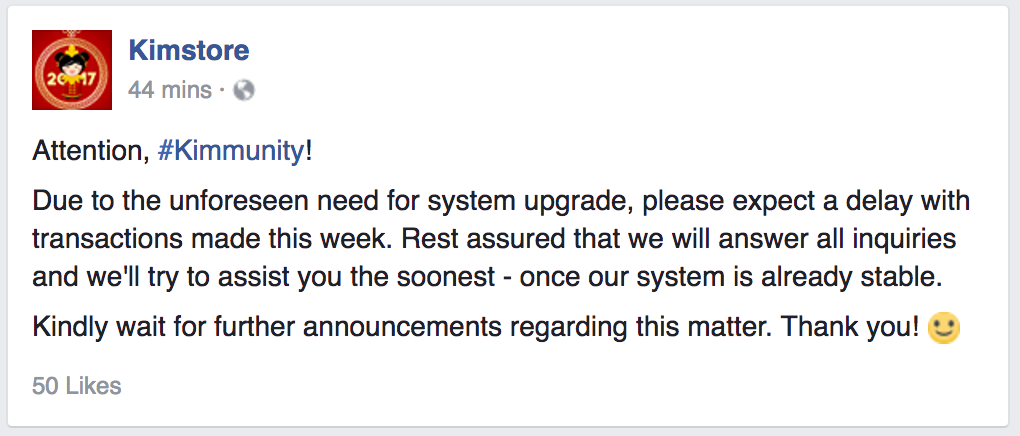 You can check the permalink here (already deleted). Obviously, they are guilty and it's not just a coincidence. Or maybe, they were hacked and the message was deleted in their Facebook page? There are so many conspiracy theories about this trending incident, but here are my own version of theories.
1. Kim is guilty. She's still planning a brilliant way to come clean and get out of this mess, without closing Kimstore. But until now, she doesn't have any idea how deal with it, thus, no comment while scheming for a way out, just like The Shawshank Redemption.
2. Kim may be kidnapped by some competitor, that's why there is no official statement yet from Kimstore regarding the incident. And their official Facebook page was hacked by the scumbags at BOC (or their competitor) so that Kimstore will look guilty for deleting the system upgrade announcement.
3. Kim Frances Yao Lato and Francis are NOT the same. They are totally different human beings. So Kim Lato is not guilty.
4. Kim is just having a vacation in Maldives or somewhere in the Indian ocean, or in a far-flung area where there is no internet, that's why she doesn't know anything about the news that her store is being raided (or perhaps was raided) by the BOC. She will just give an official announcement when she's back in the Philippines! So let's just wait and see!
5. All people in the Philippines (and in the world of social media) is in deep sleep. Their dreams are being synched, so they all have the same dream that Kimstore was raided. But one day, they will all wake up at the same time, realizing that it's all just a dream, and Kimstore wasn't really raided. It's just a f*cking nightmare.
I have more theories, but let's just limit it to 5 for now. How about you? What are you conspiracy theories?
Let's just hope that "Frances" will resolve this issue, because…
Boss awardee Kim Lato reveals one of the secrets behind @kimstore's lasting success. #BeTheBoss pic.twitter.com/W0b4n4U5Cv

— Rappler (@rapplerdotcom) November 3, 2015