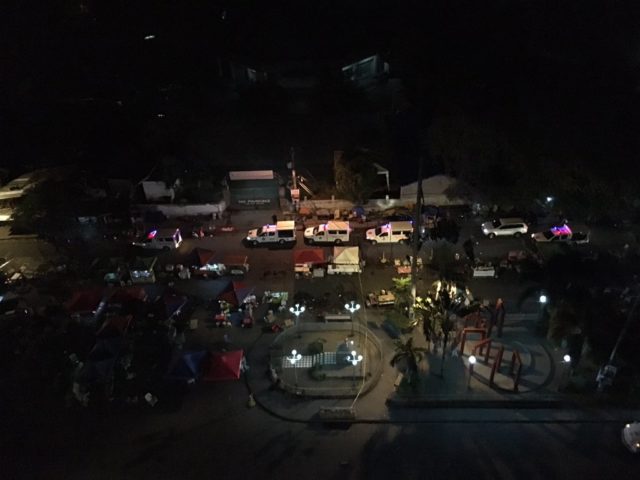 Yes, that's today. There's a sudden explosion here in Davao City. I thought it's just thunder even it's not raining, but it's actually a bomb. I'm inside Marco Polo 5th floor when it happened. I didn't see the explosion, but I see a lot of people along Roxas. The explosion happened at exactly 10:18 PM local time (GMT+8) according to the Marco Polo staff I'm talking with right now. I wasn't able to take a video, but will share it in this blog once I found one online. Be safe everyone. Photo above by @jboygonzalessj of Twitter.com. Check out his twitter of live photo and video updates.

YouTube video by creative channel:

YouTube video by TrendPh

Here are some short videos by jboygonzalessj:
Pulis with guns. #bombindavao pic.twitter.com/NWw4sl9wXs

— Fr. Jboy Gonzales SJ (@jboygonzalessj) September 2, 2016
Video of ambulance pic.twitter.com/BoIcRv5non

— Fr. Jboy Gonzales SJ (@jboygonzalessj) September 2, 2016
UPDATE 1 – 11:33 PM 09/02/2016: Now there are posts in Facebook and Twitter about the bomb explosion here in Roxas near Ateneo de Davao University. Check the links here, here, and here.
UPDATE 2 – 11:46 PM 09/02/2016: 11 people are confirmed dead and there are around 30 casualties, according to the guard here in Marco Polo. I don't have any more updates yet, but I'll keep on posting once I get news from people outside. I think it's now safe to go outside. Blogging now in a WP mobile app. The casualties were rushed by 911 respondents in Southern Philippines Medical Center, Davao City just now.
UPDATE 3 – 11:49 PM 09/02/2016: Now Google refreshes its search results and there's a reddit post about the hue explosion in Roxas Night Market area near Addu. Check this reddit out: https://www.reddit.com/r/Philippines/comments/50tm8b/huge_explosion_at_roxas_night_market_area_davao/
UPDATE 4 – 11:53 PM 09/02/2016: Now ABS-CBN posted the news. Better late than never. Weird thing is that it's posted 20 hours ago, according to Google. See the last result in the screenshot below: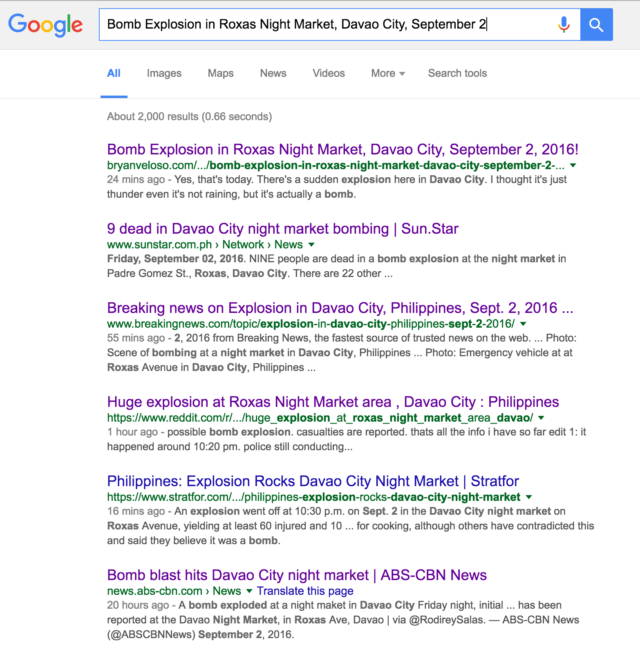 UPDATE 5 – 12:18 AM 09/03/2016: Now there are 63 casualties and 12 confirmed dead according to the folks here outside Ateneo de Davao university. But according to Presidential spokesman Ernesto Abella, at least 10 are dead and 60 are injured. A more accurate number will be confirmed later today.
UPDATE 6 – 12:29 AM 09/03/2016: Now it's posted in RT.com and other international websites.

Check out this link from RT.com for a more comprehensive news and live updates on the Roxas Night Market explosion in Davao City. This is my last update for today. I'm signing off.