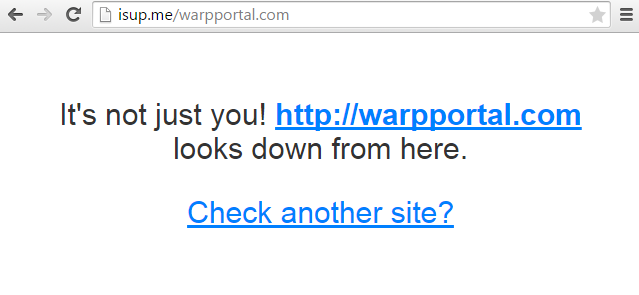 It has been almost 2 days since the first weekly maintenance of iRO Thor server (where all pRO servers were migrated). WarpPortal.com seems to have a serious issue with their server hardware. According to their update last April 29 at 8:41 AM, they have lost connectivity to the outside world due to a network issue. It's being investigated by their Internet Service Provider and IT Team. Unfortunately, it is affecting all Warpportal.com game titles and web sites. But they are working to restore connectivity and in the case of Ragnarok and Requiem, they will begin their maintenance tasks asap.

I thought it just my internet connection, that's why I can't connected even to the WarpPortal forums. But after checking isup.me, I'm glad that it's down for everyone. Hahaha! I'm suppose to read some updates in the Thor Testing Station thread, but to no avail.
Below are the recent updates from WarpPortal.com's FB Page:
April 29, 2015 9:04 PM: We've just been informed that it will not be possible to bring the servers online before tomorrow, likely in the afternoon. Certainly not the news we were hoping to get or deliver to you all tonight. We appreciate your patience and understanding during this difficult situation.
April 30, 2015 1:54 PM: The new hardware is hooked up, now the IT and ISP teams are working on configuration. Keep an eye out for more reports. Watch your games' FB pages for compensation event info!
April 30, 2015 4:48 PM: It has unfortunately been relayed to us that the connection to the games and sites will not be restored tonight. We continue to apologize for your lost game time and will be increasing our planned compensation events.
Anyway, there's nothing we can do now but wait for the servers to go back up. I hope they have an uncorrupted data backup, or else, we're going to start from scratch.