Have you ever wondered what's the difference between Cloudflare Plus vs Cloudflare Pro? If you're also that curious, then you are not alone. I've been curious as well and I googled and binged it, but I can't find anything about it. Nobody even blogged Cloudflare Plus vs Cloudflare Pro before, so I decided to write the differences on my own by comparing these two.
First, Cloudflare Plus is a Dreamhost exclusive feature. You can just avail it when you sign-up with Cloudflare. The only options you have if you don't have a Dreamhost account are the Free, Pro, Business and Enterprise editions.

If you have a Dreamhost account, you have the opportunity to try Cloudflare Plus. The difference of Plus and Pro are pretty basic. Cloudflare Plus only has these features: Mirage, Polish, Lazy Loading, and Railgun for $9.95 USD per month. Cloudflare Pro offers a lot compared to Plus, but Pro lacks Railgun, which is only available in Cloudflare Business.
Cloudflare Pro is also a bit expensive compared to Cloudflare Plus. Pro costs $20.00 per month for the first website, and $5.00 for the next websites you add in your Cloudflare Plus account. It's a bit expensive and you can't avail of that super awesome Railgun feature.
Anyway, if you don't have an idea about Railgan, it's a Cloudflare feature that is available in Cloudflare Business. It uses compression to improve performance. Sites with slowly-changing dynamic content should benefit the most from Railgun. It ensures really really fast connection. Know more about Railgun here: https://www.cloudflare.com/railgun
Below is an awesome illustration about how the Railgun works: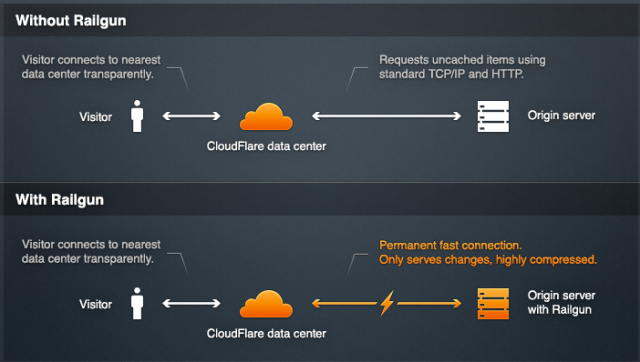 So basically, you'll save more if you have a Dreamhost account and you want to avail of one of Cloudflare Business features.
I won't mention all the Cloudflare features here, just check out this page to know more: https://www.cloudflare.com/plans