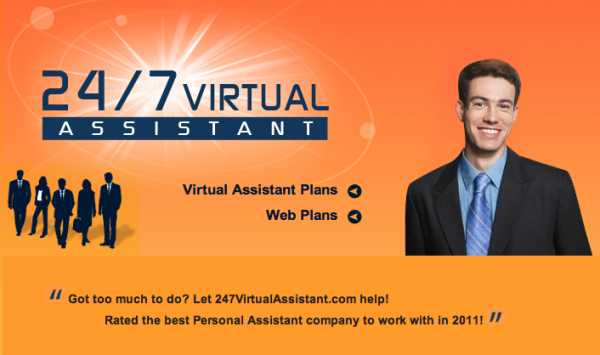 Just yesterday, my cousin Lindsay asked me if I know any Virtual Assistants for hire or if I'm available to be her VA. Sadly, I'm not available as I'm too busy doing other stuff, like playing, playing, playing and sleeping. Yeah, I'm that busy. So, with the help of Google, I searched for people who are looking for job or to be employed as a virtual assistant.

In just a few searches and a few website hopping and link clicking, I stumbled upon 247virtualassistant.com. I said, damn! This is exactly what my cousin is looking for! I then read their website and checked for positive reviews in the world wide web about it. I was impressed because its reputation is top rated. People who are looking for VAs can actually get the VA they want 24/7. Yep, that's 24 hours a day, 7 days a week. If you need a virtual personal assistant asap, this website is the way to go.
So if you're like my busy cousin Lindsay who's pretty busy like me and is in need of a virtual assistant, then visit 247virtualassistant.com now. Just fill up their form and they reply in seconds! I tried it for my cousin. I just filled up their form, and poof! They replied instantly! It's like a robot, but it's not. It's a real person that you can trust 24/7. Trust me guys, if I say it, I mean it.
Hmmmmm? Maybe I should get my own VA like my cousin? So that I have Play assistant. Because I always play play and play. And oh, I also need a sleep assistant, because that's what I do. Play and sleep! Haha! Good morning everyone!