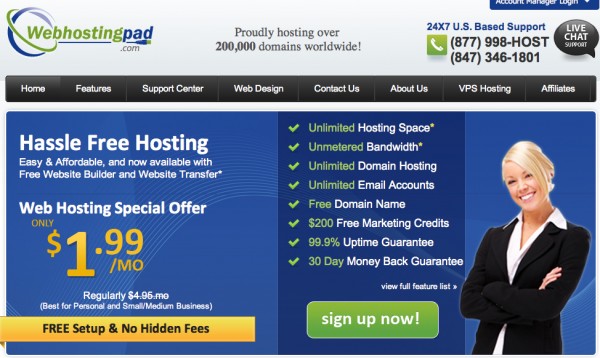 As I was searching for a cheap shared hosting service, I was lured into clicking a certain ad from a certain well-known website and it took me to Webhostingpad.com. The ad says free webhosting and domain, but after clicking it, I found out that it's not really free. It's just cheap, because it's starts at $1.99/month.
Imagine a web host with unlimited hosting space, unmetered bandwidth, unlimited addon domains, unlimited e-mail accounts, $200 FREE Marketing credits, 99.9% up-time guarantee, and a 30-day money back guarantee! For $1.99/month, that's a real steal!

After clicking sign-up now, I was quite disappointed. As the $1.99/month option is when you buy their hosting service for 5 years! That would be $119.40 USD. I think it's still a great deal, because I'll never pay monthly web hosting fees.
You'll definitely believe them at first. Why? Their Alexa rank is 7,000, which is really high for a scam site. They can afford to advertise in premium advertisement spots in Yahoo, Bing, Google, and other tech related and hosting related sites.
Good thing, it came to my thinking that I should read reviews about it first. After searching about Webhostingpad (even if I didn't search about webhostingpad scam), I didn't find a single positive review about it. People are complaining and telling everyone that it's a big scam. I browsed around 20 to 30 sites to read about it to satisfy my curiosity. After reading tons of negative reviews about them, I'm convinced that they are 100% scam.
If you use too much disk space or your site has a decent amount of traffic, they will close your account for breaching their terms of service. That's the way it was and that's the way it is. They will not refund your money, nor give you any compensation for wasting your time.
Lesson learned. If you encounter a website or a service that is too good to be true, research about it first, before you get owned!