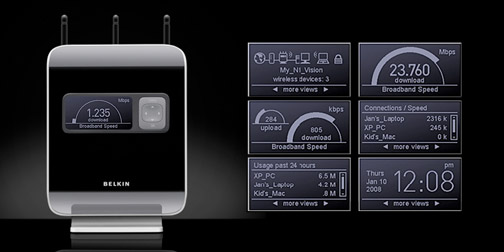 I recently replaced my Linksys WRT 310N Wireless router with the new Belkin N1 Vision Wireless Router, because of it's super cool interactive display that shows how many computers are connected to the router, the maximum and current speed of my Internet Service Provider, the current upload and download speed that I'm using, and the total uploaded and downloaded data of each device that is connected to my router.

Not just that, it also includes a digital clock display that automatically synchronizes with the time in my PC.
The only problem I found is that my Belkin N1 router's UPnP is not enabled by default. I connected my PS3 and tested the connection and my PS3 said that UPnP is unavailable or disabled in my router.
I tried Googling it but I only found solutions for old Belkin Wireless routers.
Good thing after checking all the links in the router setup at 192.168.2.1 I found out that it's just under Utilities > System Settings. Bad thing is that it's enabled by default.
So why is my PS3 saying that it's disabled and not available? That is yet I have to find out.
In case you want to know where the UPnP Enabling/Disabling is located in your Belkin Router Setup Utility, here's a screenshot for you: