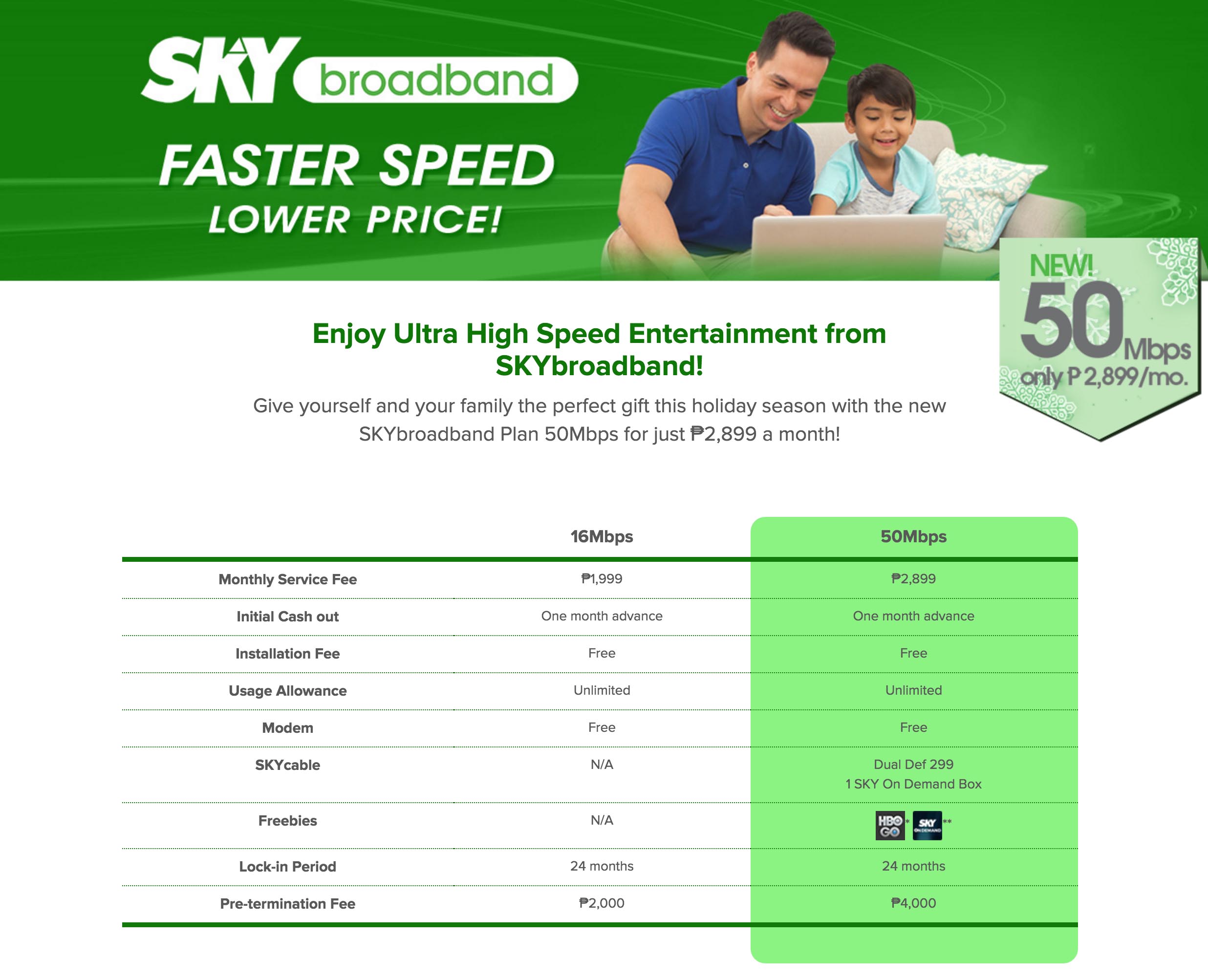 If you haven't heard the news yet, Sky Broadband lowered down their price from around 10k per month, to 2,899/month for their 50MBPS Ultra High Speed Internet. That is actually incredibly cheap.
Their 200mbps and 100mbps plans are no longer featured in their website, but I guess it's still available. They only have 3 plans now, the 3MBPS plan for 999/month, 16MBPS plan for 1,999/months and 50mbps for only 2,899/month.
If I remember it right, their 200MBPS plan costs around 35k, and 100MBPS around half that price. So before this huge price drop, their 50MBPS plan was around 9k – 10k/month. I just can't remember the exact price.
They still do offer a consumable plan of 10MBPS for 1,299.00. But I assume they will be discontinuing it soon as they are now offering a much better 16MBPS for 1,999.00 and its bandwidth is unlimited.
There are no news yet whether they will still continue to offer the Consumable plans or other internet plans that is not including in the current 3 plans they are offering right now in the near future.
UPDATE: Due to my curiousity, I checked mysky.com.ph via wayback machine, I found the old prices!
3MBPS = 999/month
10MBPS – 3999/month
16MBPS = 4999/month
24MBPS = 6499/month
55MBPS = 9499/month
200MBPS = 34999/month
112MBPS = 19999/month
So now, it's dead cheap. They just reduced the price of 50MBPS around 60%! Thank you Sky Broadband!