If you have a problem in automatically updating your plugins, WP files, and themes. If you need to enter your FTP host, username and password each and every time you want to update your WordPress blog. If you always encounter permission errors every time you attempt to update your WP Plugins and WP core files. If you need to CHMOD all your folders and files to 777 before you can update your WP files. If there's an error occured while updating Akismet or a specific plugin and the error is "Could not create directory. /public_html". Just like the screenshot below: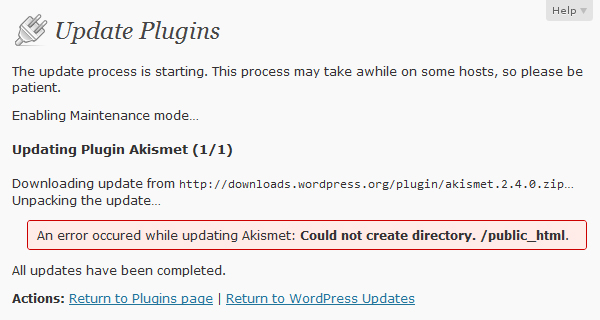 If you can update your files automatically, then we have the same problem and I have a solution for your problem! Just convert your server's php handler to suPHP from mod_php!
That's it! Problem Solved!
Alternatively, if you're thinking of getting an upgrade/changing your hosting provider, there are a lot of reviews on the best wordpress hosting providers online so make sure to read and canvass first.